What is the hallmark of a great evangelism leader?
Bill Bright (suited in the photo, left), who founded Cru (formerly Campus Crusade for Christ, and - in Romania - a partner of Chrysolis), was a passionate entrepreneur who grew his organization into the largest evangelistic network in the world; Cru impacts millions of people every year and has a current annual budget of over $500 million.
Bright had incredible networking abilities, excellent fundraising skills, and an insatiable drive for innovation.
For all his success, Bright also endured some difficult moments, such as the mass resignation of most of his senior staff in 1968 in protest over his leadership style.
Bill Bright's personal assistant Robert Gowdry was hurrying him to his hotel room for a conference call in which he would be speaking with Crusade's major donors.
It was a critical moment, as Bright was in the midst of launching a worldwide initiative which required $1 billion.
"On his way to his hotel room, Bright ran into 'a young man in the parking lot' who had 'been exposed to some hypocrisy in his upbringing in the church.' 'Bill was so burdened,' remembers Gowdry. 'We would leave and then he would… come back and approach this gentleman from another angle.' While Gowdry fretted about being late for the call, 'this was the most important person in the world right then and there with Bill.' When Bright finally reached his room, he delayed further. '[H]e was on his knees by his bed weeping over this young man in prayer, crying out to God for this boy's salvation.'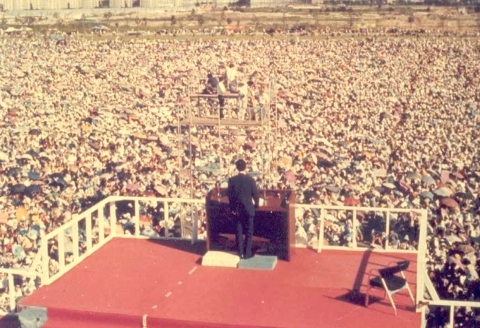 Perhaps the greatest hallmark of a evangelism leader is that they themselves have a passion to speak with others about Jesus.
Turner comments that "for all of his pragmatism and concentration on fundraising, Bright retained the respect of both his staff and his donors because of his transparent commitment to... evangelism".
It's often said that "you can't take somebody else where you aren't going yourself" and for those of us involved in leading others into sharing Jesus - whether our role is a voluntary one in our church, a paid one in a parachurch ministry, or an overseeing one in a local congregation - this is never truer than when it it comes to evangelism.