Next week is Burning Man, an annual eight day festival of creativity, self-expression and community which takes place in Nevada's Black Rock Desert.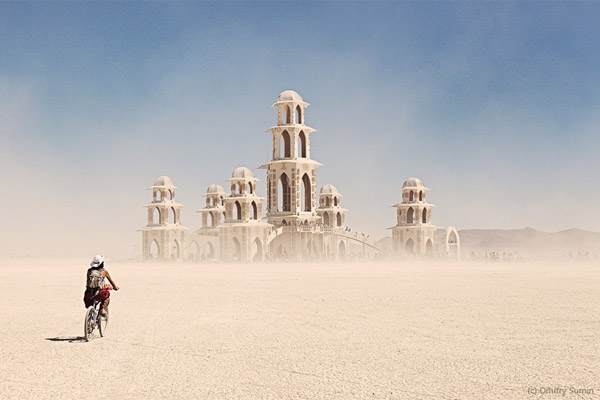 The event is sometimes popularly associated with neo-paganism, and - though this strand of spirituality is well-represented at the event - the religious makeup of Burning Man is actually quite diverse.
Lee Gilmore, in his 2010 book Theater in a Crowded Fire: Ritual and Spirituality at Burning Man, says that most attendees fall into one of three major religious streams at the event:
The largest group (58% of attendees) define themselves as 'spiritual but not religious', and pursue some form of spirituality which lies outside (what is popularly perceived to be) the American mainstream. Some adhere to a religion such as Wicca, others combine elements from various religions, while still others formulate their own highly-personalized approach to spirituality.
The second group (28% of attendees) are either atheist, agnostic, or profess to find their sense of meaning in science.
The final major identifiable grouping (6% of attendees) includes people who are active members of Christian churches or Jewish synagogues.
So, as a context for being a follower of Jesus, it's comparable to living in many nations where Christians live as a minority.
The major difference is that, whereas in most Western contexts atheism or scientism (the application of the scientific method to all of life) is widely treated as the primary alternative to Abrahamic monotheisms (Christianity, Judaism, Islam), at Burning Man it is a consciously 'spiritual' approach to life which dominates.
A 'temple' even forms one of the central structures of the venue.
Such spiritualities, as I noted earlier this week (here), are quite widespread in the West, but in contexts outside Burning Man they are rarely acknowledged in such an public and collective fashion.
I'll be at Burning Man as part of a small team brought together by Rick Richardson to research spirituality at the festival from a Christian missiological perspective.
It will be fascinating week of research, and also of increasing the body of understanding available about spiritual beliefs and practice among Burning Man participants (or 'Burners').
If you're wrestling with how to engage those who are 'spiritual but not religious' in your own context, drop me an email (luke@chrysolis.org) and I'd love to talk over possible approaches you could take.
And if you're at Burning Man this year, or if you have any experience from years gone by, please share it with us.